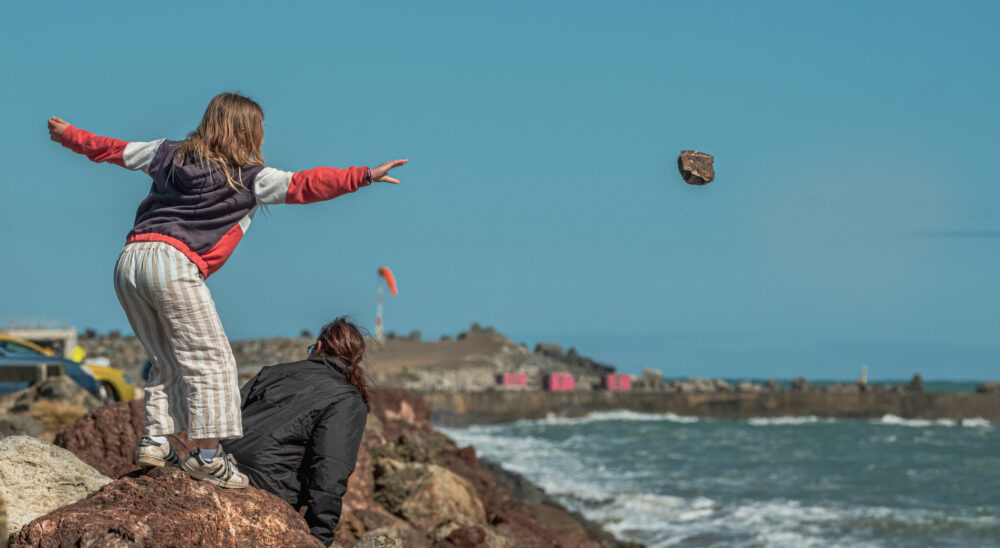 El pulso del ser
Lyall Bay, Wellington, NZ
Foto: Lina Marin
1. En vez de decirle cuidado golpeas al alguien con esa pelota, dile: asegúrate primero que no haya gente alrededor, ni hayan cosas que se rompan, luego, tira la pelota tan fuerte que te haga feliz y juegues hasta el cansancio.
2. No digas el dinero es una ilusión, el dinero es una miseria, el dinero es una fantasía, el dinero no dura nada, más bien di: El dinero fluye como las olas en el inmenso oceano. El dinero va y viene constantemente. El dinero es maravilloso. El dienero es energía que fluye como la energía unviersal. El dinero es inagotable.
3. En vez de decirle perezoso, dile: es bueno de vez en cuando sentir deseos de no hacer nada. Pon tu mente en blanco y haz lo que más te guste hacer en este estado de desidia, a lo mejor necesitas hacer una pausa y descansar, luego, busca tu voluntad de fuego para que recuperes tu energía vital.
4. En vez de decirle idiota no contamines el oceano, las calles, el planeta, no destruyas la naturaleza, dile: ¿también puedo tirar basura en medio de la sala de tu casa, tu dormitorio, tu hogar? ¿te gusta que abusen de ti, de tu vida, de tu casa, de tu gente?
5. En vez de decirle deja de fumar estas contaminando el medio habiente, dile: haz visto como se llenan los pulmones de hollín?
6. Cuando te veas con ansiedad y sientas que el miedo invade todo tu ser es porque estas pensando demasiado en el futuro, y le estas dando importancia al pasado, a lo que no fue y pudo ser, estas desgastando todo tu potencial energético en lo que no puedes controlar. Cuando te veas así, haz un esfuerzo inmenso, busca la fuerza de tu voluntad y ponla a tu servicio, respira profundamente varias veces, despacio, sin afán, escucha tu respiración, centrate en hoy, solo en hoy, en lo que realmente puedes ver, tocar, sentir y mejorar, sigue escuchando tu respiración y tu corazón. Hazlo diario hasta que fortalezcas ese músculo mental.
7. En vez de decirle eres un fracasado o fracasada, dile: esta es una experiencia de vida, haz un beneficio de inventario, pon tu cara al viento y sigue adelante. Cuando se pierde, se gana. Se aprende y se re-conocen tus fortalezas, tus límites y tus debilidades. Cuando se es consciente de estos tres estados del ser, es mas sencillo explorar el Universo sin auto-sabotajes.
8. En vez de decirle no tengas miedo. dile: es bueno sentir un poco de miedo para mejorar tus acciones y vivir con determinación. El miedo nos fortalece.
9. Si te dice que feo soy, que fea soy, dile: tú no eres feo/fea, Tú eres Divino, Tú eres Divina.
10. En vez de criticar, esfuertaze en detener la lengua, reflexiona: ¿es necesario criticar ? ¿aportas? ¿destruyes? ¿confundes? ¿Es positivo y constructivo lo que voy a decir? si no, conserva el silencio.
11. En vez de juzgar, respira y detente por un instante, obsérvate, vuelve a reflexionar. Pregúntate ¿porque juzgo? ¿para que juzgo? ¿donde aprendí a juzgar? ¿Me gustaría que me juzgaran? ¿cual es el fin de juzgar? ¿que es lo que no veo en mi que me molesta de ti?
12. En vez de decirle cuidado te equivocas, dile: si te equivocas vuelve a empezar, te vas a dar cuenta como mejoraras en todo lo que hagas. Volver a empezar nos vuelve maestros. hasta que las equivocaciones van disminuyendo.
13. No le digas no llores más, dile: Llora intensamente, llora como si fueras una fuente de agua inagotable hasta que tu alma te escuche y tu ser se tranqulice y se encuentre con la paz que hay dentro de ti.
14. En vez de decirle no grites más, no rayes paredes, no rompas cosas, dile: por favor canta la canción que hace vibrar tus huesos hasta que toque tus entrañas y descubras un arte que te ayude a crecer.
15. En vez de decirle no estes triste, dile: conectate con la tristeza tan profundamente hasta que se re-encuentre con tú alegría y surjas a la superficie renovado, renovada.
16. En vez de decirle no te enojes, dile: enójate tan fuerte hasta que encuentres tu paz y hagas la paz con el resto del mundo. Para encontrar la paz primero hay que revolcarse entre la oscuridad.
17. En vez de decirle cálmate, dile: te comprendo.
18. En vez de decirle vas a perder, dile: esfuérzate al máximo sin importar los resultados. De cada experiencia se gana y se aprende algo nuevo.
19. En vez de decirle no comas rápido, dile: comer despacio te hace consciente de tu cuerpo y de tu mente.
20. En vez de decirle cuidado te caes, es mejor que le digas: conserva tú equilibrio.
21. En vez de decirle cuidado con los extraños, dile: observa y presta atención del entorno, de las personas, de tus movimientos y tu respiración. Es mejor estar concentrado y alerta en tu ser para percibir el ambiente en mayor proporción.
22. En vez de decirle no discutas, dile: si estas a punto de entrar en una discución, por favor piensa dos veces antes, respira profundamente diez veces seguidas y reflexiona: ¿se justifica entrar en este argumento, pelea? de todas maneras, si es un constante círculo vicioso, un hábito repetitivo, no siempre funciona, cuando hay que explotar, se explota, eso si, con argumentos de valor, que tengan trascendencia en ti y en el otro.
23. En vez de pensar constantemente y con obsesión en lo mismo, una y otra vez, más bien habla en perspecitva con ese pensamiento para que tu ser, tu alma, tu mente te muestren que es lo que te molesta ó no entiendes y así lo trasciendes. Los monjes budistas le dan vida a los pensamientos negativos, innecesarios y obsesivos y los ponen al frente como una proyección de ellos mismos hasta que los transforman en algo positivo que encontraron en medio de esa reflexión mental. Es una técnica de meditación fácil de aprender, se concentra el tiempo que sea necesario en lo mismo una y otra vez pero con preguntas conscientes.
24. Si te dice me siento solo, me siento sola, dile: Tú no estás sola, Tú no estas solo, te tienes a ti y me tienes a mi, tienes un Universo dispuesto a conspirar contigo.
24 Reflections to Breaking Bad Habits
1. Instead of saying: be careful you hit someone with that ball, better to say: first make sure there are no people around you, and there are no things that break, then throw the ball and play until you are tired.
2. Don't say money is an illusion, money is a pittance, money is a fantasy, money does not last at all, rather say: Money flows like waves in the immense ocean. Money comes and goes constantly. Money is wonderful. Money is energy that flows like universal energy. Money is inexhaustible.
3. Instead of saying you're lazy, say: it is good to feel like doing nothing from time to time. Put your mind in blank and do what you like to do the most in this state of laziness, maybe you need to pause and rest, then, seek your will of fire so that you recover your vital energy.
4. Instead of saying idiot! do not pollute the ocean, the streets, the planet, do not destroy nature, rather say: can I also throw garbage in the middle of your living room, your bedroom, your home? Do you like to be abused of you, your life, your house, your people?
5. Instead of telling him to stop smoking you are polluting the environment, tell him: have you seen how soot fill up the lungs?
6. When you see yourself with anxiety and feel that fear invades your entire being, it is because you are thinking too much about the future, and you are giving importance to the past, to what was not and could be, you are wearing out all your energetic potential in what you can't control. When you see yourself like this, make an immense effort, seek the strength of your will and put it at your service, breathe deeply several times, slowly, listen to your breathing, focus on today, only today, on what you can really see, touch, feel and improve, keep listening to your breath and your heart. Do it daily until you strengthen that mental muscle.
7. Instead of say you're a loser or a failure, rather say: This is a lifetime experience, make an inventory buff, put your face to the wind, and move on. When you lose, you win. You learn and recognize your strengths, your limits, and your weaknesses. When you are aware of these three states of being, it is easier to explore the Universe without self-sabotage.
8. Instead of saying don't be afraid, better say: it is good to feel a little fear to improve your actions and live with determination. Fear makes us stronger.
9. If he or she tells you I'm ugly, tell them: you are not ugly, You are Divine.
10. Instead of criticizing, make an effort to stop the tongue, reflect: is it necessary to criticize? Do you contribute? Do you destroy? Confused? what I am going to say is positive and constructive? if not, keep silent.
11. Instead of judging, breathe and stop for a moment, observe yourself, reflect again. Ask yourself why do I judge? What do I judge for? Where did I learn to judge? Would I like to be judged? What is the purpose of judging? What is it that I don't see in myself that bothers me about you?
12. Instead to say be careful, you are wrong, rather say: if you are wrong, start over, you will realize how you will improve in everything you do. Starting over makes us masters, until the mistakes diminish.
13. Do not say do not to cry anymore, better say: Cry intensely, cry as if you were an inexhaustible source of water, until your soul listens to you and your being calms down and finds the peace that is within you.
14. Instead of say not to scream anymore, don't scratch walls, don't break things, rather say: please sing the song that makes your bones vibrate until it touches your guts and you discover an art that helps you grow.
15. Instead of say don't be sad, better say: connect with your sadness so deeply until it re-meets your joy and you emerge to the surface renewed.
16. Instead of say do not to be angry, say: be so angry until you find your peace and make peace with the rest of the world. To find peace, you must first dive into the dark.
17. Instead of saying calm down, say: I understand you.
18. Instead of say you're going to lose, rather say: do your best regardless of the results. From each experience something new is gained and learned.
19. Instead of saying not to eat fast, say: eating slowly makes you aware of your body and your mind.
20. Instead of saying be careful you fall down, it is better that you say: keep your balance.
21. Instead of saying to be careful with strangers, tell him: observe and pay attention to the environment, people, your movements and your breathing. It is better to be focused and alert in your being to perceive the environment in greater proportion.
22. Instead of telling him not to argue, tell him: if you are about to get into an argument, please think twice before, take a deep breath ten times in a row and reflect: is it justified to have this argument, fight? In any case, if it is a constant vicious circle, a repetitive habit, it does not always work, when it is necessary to exploit, it is exploited with arguments of value, that have significance for you and the other.
23. Instead of constantly thinking and obsessively about the same thing, over and over again, rather speak in perspective with that thought, so that your being, your soul and your mind will show you what it is that bothers you or you do not understand, and so on that way you can get to transform it. Buddhist monks bring negative, unnecessary, and obsessive thoughts to life and bring them to the fore as a projection of themselves until they transform them into something positive that they found in the midst of that mental reflection. It is an easy meditation technique to learn, concentrating as long as necessary on the same thing over and over again asking yourself conscious questions.
24. If he or she tells you I feel alone, tell him: You are not alone, You are not alone, you have you and you have me, you have the Universe willing to conspire with you.
Lina Marin